I've thought long and hard about adding this game to my favorites list. But I suppose that says something in the fact that I'm still thinking about this game long after I've played it.
This game certainly isn't without faults. In fact, it has MANY faults. Yet despite all of those faults, I strangely found myself enjoying playing it.
The dialogue between characters is awful. I'd say it's hilariously bad. Much of the dialogue is spoken in what sounds like an accusatory tone, as though every character were a 14 year old with a bad attitude.
Also, the checkpoint system is rather punishing. The saves the game makes are few and FAR between. This, combined with the fact that you can die VERY quickly makes for some unnecessary frustration. Also, the fact that you can't just load up a level to try for unlocking achievements or completing combat challenges or finding collectibles is really frustrating, it's also tricky to know when the game is going to move you to the next area, because you can't ever go back if you missed something.
A lot of people complain about how the game is rather linear, in that there is tons of radiation that forces you to go where it wants you to. Still, those areas where you can go are often quite large already.
The loading times that some people complain about don't really bother me quite so much after playing Skyrim, with it's absurdly long and frequent loading screens. I mean, this game IS beautiful, graphics wise, and the areas it's loading up are really quite large, so I don't hold the loading times against it too much.
The frequent real world ads in game I don't begrudge the game too much for having. If there are big billboards that you can swing from all over the place, why WOULDN'T they have advertisements on them? The only culprit I'm not happy with is Pepsi. There are Pepsi machines all over the damn place, and you absolutely cannot use those big-ass, heavy objects as weapons. They are just BEGGING to be chucked at groups of enemies. I have absolutely no doubt in my mind that Pepsi didn't want their product being used as a weapon.
The fact that I thought all the dialogue was awful certainly didn't pull me into the story, so I didn't care too much about the big twist at the end, which I suppose I should have seen coming, but I didn't, again, because I wasn't following it too closely. But seperate from the big twist is the big reveal near the end, that is officially the most IDIOTIC thing I have EVER heard in a video game.
His "missing" wife gave her life to make his bionic arm, because bionic prosthesis need an emotional anchor to work with their user.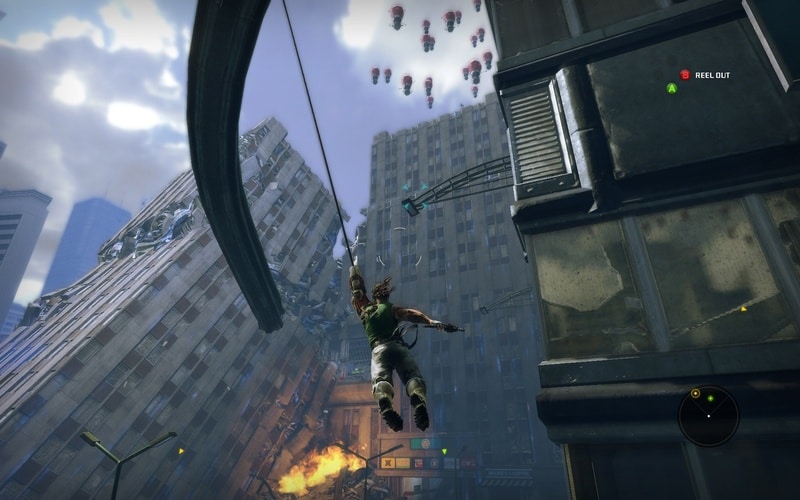 Okay, with all of those complaints out the way, I suppose I should tell you why it's on my favorites list. The swinging mechanic. I love it. There's nothing quite like it in any other video game I've played. Just Cause 2 comes close, but this game was designed around the idea that you're going to be swinging around, and it shows. Granted, you've got to be careful that you don't swing into a radiation area that will kill you in a matter of seconds, or land in deep water, as you'll sink like a rock, but I feel like that just adds to the tension and excitement.
Breaking up large swinging sections are combat encounters. A lot of other game critics have ragged on the combat in this game. I suppose if you play this game as a straight up shooter, it might not hold up. I, personally, was using the arm to it's fullest extent. I was making hit-and-run attacks, chucking heavy objects at my enemies, chucking enemies at other enemies, or grappling an enemy with my arm and flinging myself at the enemy, or hurling an enemy or object in the air and then punting the item at other enemies. I enjoyed mixing it up like that as often as I did just playing it straight, using guns and grenades.
This game can (as of 09/14/2012) be bought used from Gamestop for $5. Less than the cost of a McDonald's combo meal. I feel like there's no reason not to go out and pick this game up.